Appearance
Not much is known about the Mujina - it shapeshifts so much from it's original form that few have really seen it.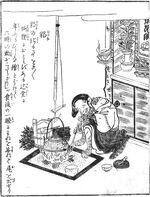 Personality
It loves to deceive Humans to the point of going on years-long disguises just to prank them.
Lore
Like the kitsune (fox) and tanuki (raccoon dog), the mujina is a small furry animal said to be a master of shapeshifting and of bewitching humans, and it may even be the most skilled of them all, able to take the shape of both Yōkai and Humans alike.
Sources